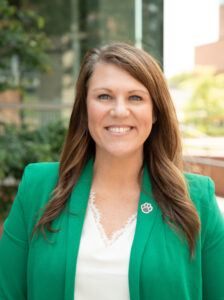 As a first-generation college student from rural West Virginia, I have devoted over twenty years to a career in higher education as a way to give back to a system that has given so much to me. It is my passion to advocate for students from all backgrounds to help them achieve academic success, and avoid many of the barriers I once faced as a first in family college student. It is a privilege to work alongside an exceptional team in the Academic Success Center (ASC) and countless partners from across the campus. We are dedicated to providing academic support to undergraduate students to promote and reinforce student persistence, academic progression, and timely completion of their degrees.
As part of the Division of Undergraduate Academic Affairs, the ASC proudly supports UMBC's strategic plan by delivering a robust array of academic support services to all undergraduate students. Our services, which include Academic Advocacy, Academic Learning Resources and Academic Policy, empower students to identify and engage with resources and to develop skills and strategies for success in their academic journey and beyond. We collaborate with faculty, staff, and campus partners to ensure consistent support to all undergraduates to help them achieve their individual goals and earn a UMBC degree. Our Advisory Board provides strategic advice and expertise to help advance the mission and goals of our Academic Success Center.
The Academic Success Center consists of both physical and digital spaces where students from any college can find the academic assistance they need for a variety of disciplines. The ASC has made it a priority to adapt, partner and innovate to provide students with individualized support and care to best match their needs in an ever-changing educational landscape. For instance, we provide in-person and virtual Tutoring by appointment and by drop-in as well as offer Supplemental Instruction (SI PASS) sessions where students can collaborate and learn together. We coordinate the campus Early Academic Alerts Program, so that all students can be informed by their professors if they are having difficulty in their courses, and be connected to resources for success. Our Academic Advocates and Academic Peer Advocates proactively reach out to students, helping them navigate campus resources, ensuring retention and timely completion of degrees. We've also created an online learning resource page, with videos and guides to help students succeed in online learning.
To stay connected to students and to each other we've built a robust social media presence on Instagram, Facebook, and Twitter. As we prepare to return for fall 2023, we are excited to welcome students, faculty, staff and visitors to our newly expanded space in the Albin O. Kuhn Library as well as to our Computing Success Center in the Fine Arts Building where our core values guide all efforts as we continue to provide academic support to help students claim their future with their UMBC degree.